ULTRA Worldwide, The World's Most International Festival Brand, Launches New Website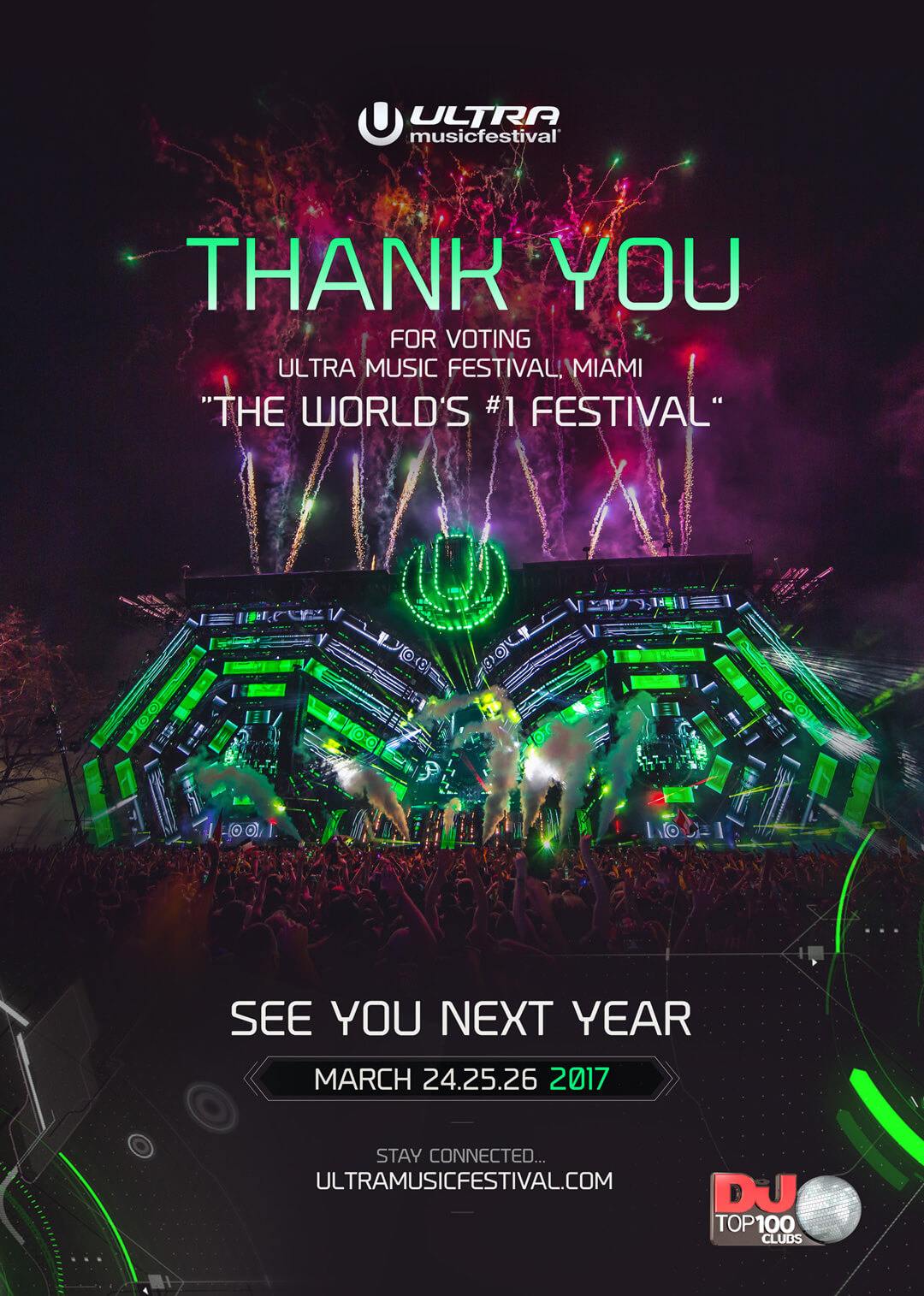 UMF FILMS & FINAL KID RELEASE HOUR-LONG ULTRA WORLDWIDE 2015 YEAR MIX DOCUMENTING STUNNING GLOBAL TOUR SPANNING 19 CITIES, 15 COUNTRIES, 5 CONTINENTS
NEW 2016 ULTRA WORLDWIDE SIGNATURE EVENT DESTINATIONS INCLUDE RIO DE JANEIRO, SINGAPORE AND HONG KONG
ULTRA MUSIC FESTIVAL MIAMI VOTED #1 FESTIVAL IN THE WORLD –DJ MAG
ULTRA EXECUTIVES RUSSELL FAIBISCH AND ADAM RUSSAKOFF NAMED ON BILLBOARD MAGAZINE'S TOP DANCE MUSIC POWER PLAYER LIST
In Ultra Music Festival's illustrious eighteen-year history, no year has been as fruitful, or as widely successful as these past 365 days. Since its inception in 1999, the brainchild of co-founder Russell Faibisch has gracefully evolved from an intimate Miami gathering on the beach to a worldwide powerhouse, dominating territories spanning an incredible five continents and twenty countries. Now, entertaining hundreds of thousands of ultranauts across the planet each year, ULTRA Worldwide has firmly established itself as the ONLY truly global festival brand.
Kicking off the summer festival season, ULTRA Worldwide has announced the launch of a brand new website, coinciding with the release of FINAL KID's hour-long 'ULTRA Worldwide 2015 Year Mix'. With this, Charly Friedrichs and his team showcase the massive global impact of DJ Mag's No.1 Festival in the World and outline the ever-evolving nature of the world's most international festival brand.
Visit Worldwide Site to Watch 2015 Year Mix
While 2015 represented a banner year for ULTRA, 2016 has already seen expansion into two new destinations in Rio De Janeiro, Brazil and Hong Kong, and Singapore upgraded to a full 2-day festival. Catching wind of ULTRA's seemingly exponential growth, Billboard recently included ULTRA organizers Russell Faibisch and Adam Russakoff as some of the very top executives in their third annual Dance Music Power Player List.
READ: Billboard Dance Music Power Player List
Also, recognizing ULTRA's dominance, DJ Mag sat down with principals Russell Faibisch, Adam Russakoff and Charles Faibisch to discuss ULTRA Miami being crowned the No.1 Festival in the World as voted on by hundreds of thousands of fans. The two innovators reflected on their beginnings, and the growth of ULTRA Music Festival Miami:
Since our inception more than eighteen years ago, ULTRA has always presented incredible, diverse, forward-thinking line-ups — it's our signature… Sometimes we find ourselves ahead of our time.
– Russell Faibisch
READ: DJ MAG – 'ULTRA Miami Voted No. 1 Festival
Boasting a slew of new stage designs, and lineups that only ULTRA can provide, the brand is charging into the summer of 2016 with unprecedented fervor. With ULTRA Europe and 11 more events on the horizon still this year, and the completion of ULTRA Korea's newly expanded 3-day festival (including a signature UMF TV global live stream) together with the SOLD OUT Road to ULTRA Thailand this past weekend in Bangkok, the Miami born festival has positioned itself as the dominant international festival brand
For more information about tickets and lineups for all Ultra Worldwide events, stay tuned to www.umfworldwide.com and www.roadtoultra.com
About ULTRA WORLDWIDE™
ULTRA WORLDWIDE™ is the global edition of the World's Premier Electronic Music event, ULTRA MUSIC FESTIVAL.
The ULTRA brand was founded in 1997 by Executive Producer, President & CEO Russell Faibisch, and began producing electronic music events in South Florida, which led to the inaugural Ultra Music Festival in 1999 on the sands of Miami Beach.
The internationally renowned festival, which has taken place every March since its inception, celebrated its eighteenth anniversary from March 18-20, 2016 by bringing over 165,000 music enthusiasts to the sold out waterfront event in the heart of the City of Miami. Ultra Music Festival returns to Bayfront Park for its nineteenth annual edition, 24-26 March 2017.
Choosing to follow a unique, creative vision and a wholly organic growth focused around a true love for music, artists and fans alike, the ULTRA and ULTRA Worldwide™ brands represent not only the world's biggest and most successful remaining INDEPENDENT electronic music festival brand, they are now the most international of any festival brand in the world by far. The event organizers continue to transport the unrivalled experience from the Miami flagship festival to an ever-growing number of destinations and fans all over the globe.
Over the past eighteen years, literally thousands of the world's most iconic DJs, producers and live acts have mesmerized audiences with awe-inspiring sets at ULTRA festivals in ARGENTINA, BALI, BRAZIL, CHILE, CROATIA, IBIZA, JAPAN, KOREA, SOUTH AFRICA and of course MIAMI, as well as ROAD TO ULTRA® events in BOLIVIA, CHILE, COLOMBIA, MACAU, PARAGUAY, PERU, THE PHILIPPINES, PUERTO RICO, SEOUL, SINGAPORE, TAIWAN, THAILAND, TOKYO and the USA. Each and every new global edition is founded on the same successful recipe that has been perfected over eighteen years in Miami, combining the most diverse electronic talent with the most technologically advanced, large-scale festival productions in the world.
In addition, the ULTRA brands pioneered the live stream experience, 'ULTRA LIVE' (whereby the festival is brought online to over 20 million unique viewers globally) and the audio broadcasting platform 'UMF RADIO' (syndicated to FM Radio in over 62 countries and reaching more than 22 million listeners weekly). Also UMF FILMS' collaboration with FINAL KID has seen some of the most visually breathtaking festival aftermovies in the music space, including a feature-length documentary exploring the explosion of dance music, entitled CAN U FEEL IT, which premiered at the Ultra Music Festival, Miami 2012 and was exhibited in over 500 theaters across the Unites States.
2016 will see the ULTRA and ULTRA WORLDWIDE™ brands continue to push the boundaries even further, bringing an unparalleled combination of cutting edge productions and the world's best electronic acts back to previous strongholds and new frontiers across the globe. With a brand new edition of ULTRA Brasil confirmed to take place in Rio de Janeiro on 14-15 October 2016, ULTRA Singapore becoming a full scale two-day festival on 9-10 September and with ROAD TO ULTRA® entering Hong Kong later this year, the ULTRA brand has now united TWENTY COUNTRIES across FIVE CONTINENTS worldwide. For full details on all ULTRA Worldwide events, go to umfworldwide.com