ULTRA'S 'MISSION: HOME' CELEBRATED AS MOST EXTENSIVE SUSTAINABILITY PROGRAM ACROSS AMERICA'S LEADING ELECTRONIC MUSIC FESTIVALS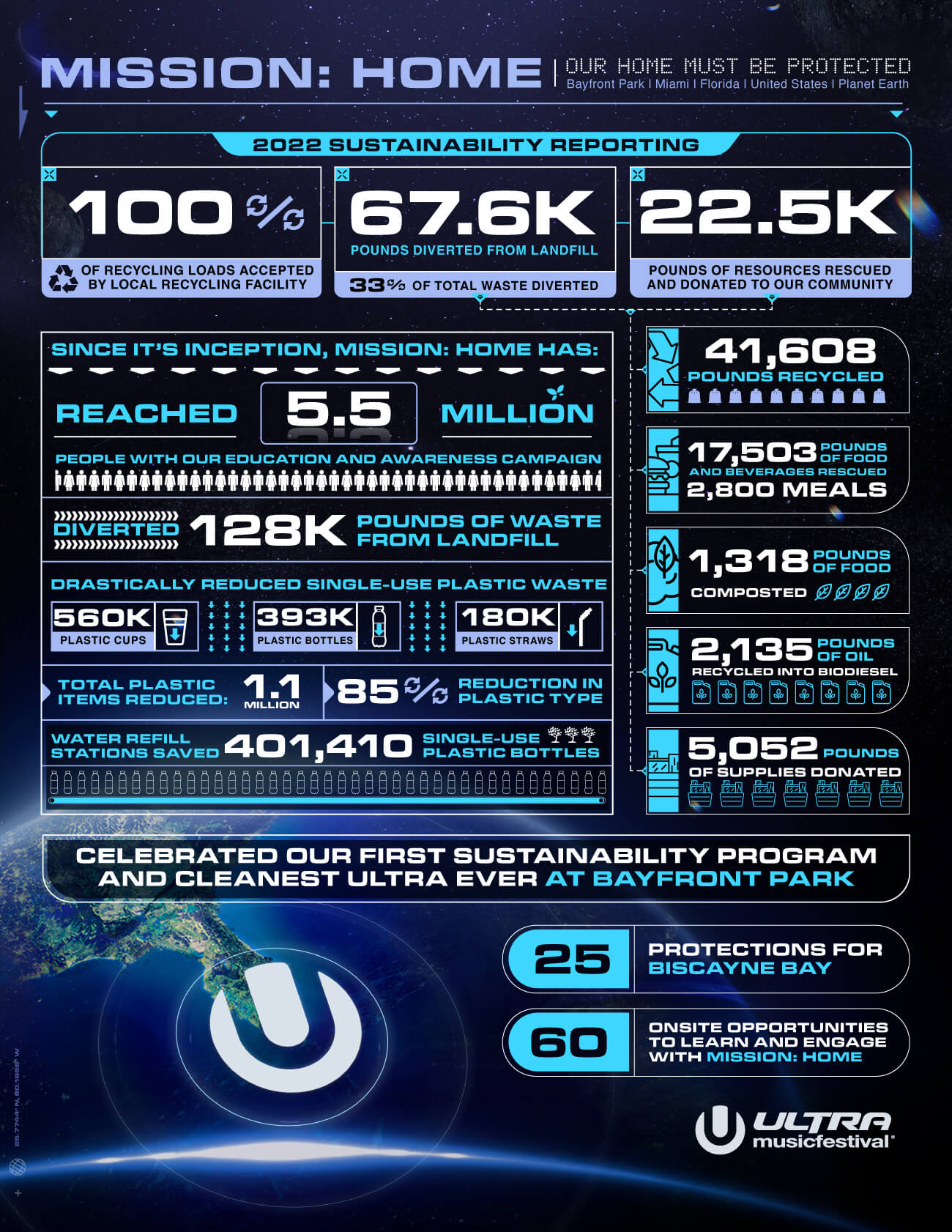 Ultra successfully executed 30 'Mission: Home' sustainability initiatives at the 22nd annual, sold-out festival which took place March 25 – 27 at Miami's Bayfront Park
Since launching at Ultra Music Festival in 2019, 'Mission: Home' has collectively reached more than 5.5 million people and reduced the use of more than 1.1 million plastic items
After Ultra launched its 'Mission: Home' sustainability program at Virginia Key in 2019, a third-party collective of environmental organizations declared that "Ultra Music Festival set the bar in festival greening." The inaugural program actioned unprecedented shifts among vendors, staff, crew, employees and attendees who collectively decreased environmental impact. Together, they successfully reduced 526,000 plastic items from the waste stream, diverted more than 60,000 pounds of waste from landfill, achieved an impressive 100% acceptance of recycling loads at the local facility, and reached more than 2.7 million people worldwide.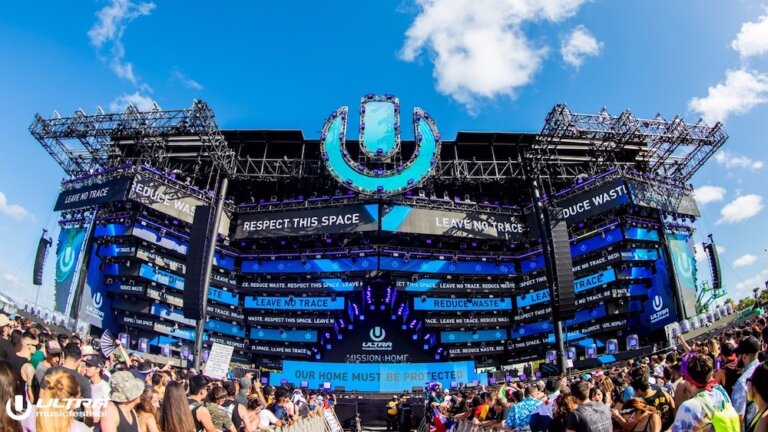 When Ultra returned to its longtime home of Bayfront Park from March 25 – 27 for its sold-out, 22nd annual edition, it became clear that 'Mission: Home' had become part of the fabric of the organization. The program's debut at the Downtown Miami venue continues the mission of "preserving our home, reducing our environmental impact and inspiring our community to protect the planet." After successfully executing 30 different sustainability initiatives this year, 'Mission: Home' has anchored itself as the most extensive sustainability program across America's leading electronic music festivals.
Across both years of Ultra Music Festival's'Mission: Home' programs, the environmental impact data speaks for itself. Between the 2022 and 2019 festivals, 'Mission: Home' has diverted more than 128,000 pounds of waste from landfill, a weight heavier than 1.5 fully grown humpback whales! In addition to recycling and composting, 'Mission: Home' took waste diversion a step further this year by physically rescuing over 22,500 pounds of unused food, beverages and other supplies which were donated to local homeless outreach center, Miami Rescue Mission and other community partners. "Food rescue is so important! The food received from Ultra fed approximately 2,800 meals," said Anthony Perrone, Food Service Coordinator at The Caring Place, which includes Miami Rescue Mission.
The 2022 festival brought back other waste reduction initiatives from the 2019 program like water refill stations and bans on Styrofoam as well as certain single-use plastics and bioplastics. Across both 'Mission: Home' festival programs, more than 1.1 million plastic items have been eliminated from entering the waste stream. Together, event bar operations and plastic and Styrofoam-free food vendors have helped reduce an impressive 85% of the types of single-use plastic previously distributed, including cups, straws, plates, cutlery and many other food service wares.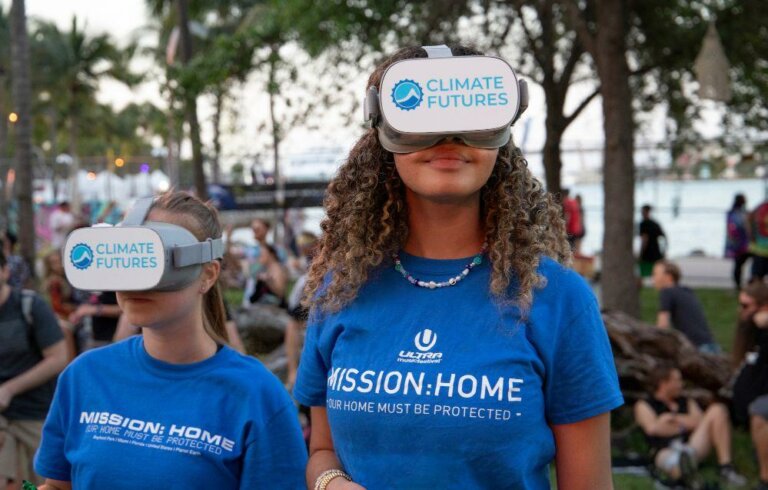 'Mission: Home's extensive program of 30 ambitious initiatives are aimed at the objectives of Waste Reduction, Pollution Prevention, Nature Preservation, Community Engagement and, new in 2022, Climate Action. For this new focus on climate, Ultra partnered with internationally renowned energy experts ZAP Concepts and Miami-based carbon offsetter Climate Futures to implement initiatives like energy efficiency and carbon footprint studies, as well as support for verified carbon offsetting projects. Additionally, attendees were educated on understanding their own carbon footprint via an onsite VR experience and given tools to do their own offsetting using a custom Ultra portal within Climate Future's 1PLANET app.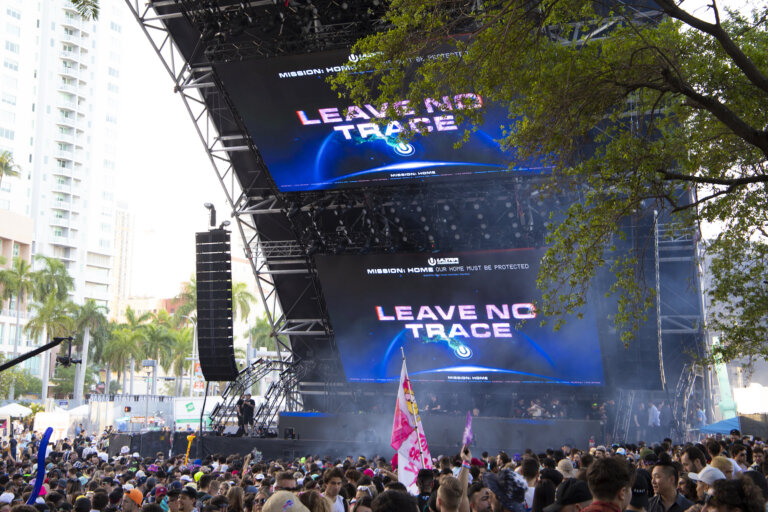 One feature of Ultra's previous Pollution Prevention and Nature Preservation objectives was the Leave No Trace campaign, which began with online messaging and later dispersed a plethora of physical and digital signage across the 2019 festival. This year, advanced messaging and signage returned alongside new cigarette disposal towers and "Connect to Nature" displays which educated attendees about Biscayne Bay's delicate and essential ecosystem, via a partnership with Ocean Conservancy.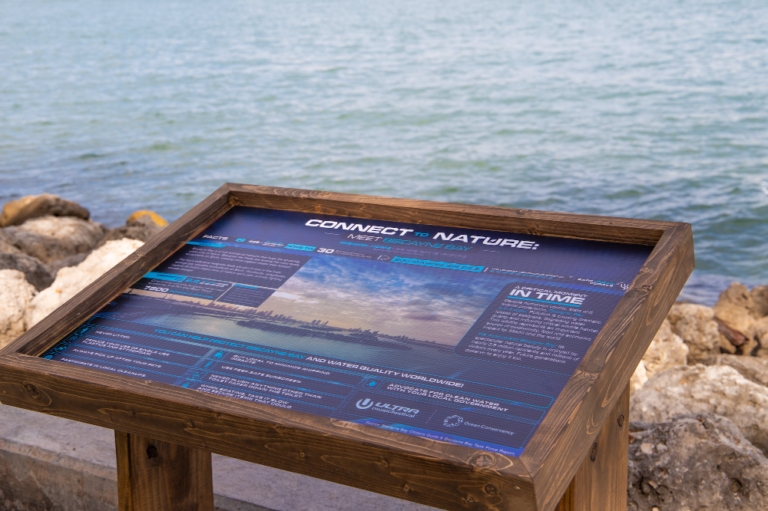 Additionally, to prevent litter from entering Biscayne Bay's stormwater systems, temporary screens were applied to 25 storm drains in the Park by ocean pollution prevention company SOP Technologies. This impressive initiative marked the first time that a large-scale event protected Biscayne Bay to such an extent, which is typically only used as legally required on construction sites.
'Mission: Home' also boasted widespread Community Engagement efforts. 159 volunteers and 16 partners joined forces with Ultra to participate in multiple program initiatives. Ultra's 55,000 daily attendees were able to educate themselves via signage and local environmental organizations present at the onsite Eco Village, while millions of Ultranauts worldwide learned about 'Mission: Home' virtually via the festival's social media channels and #ULTRALIVE stream.
The 'vision' of the 'Mission: Home' program is "to expand the environmental consciousness of everyone our programs reach, positively shifting behavior both on and off festival grounds." Between both the 2022 and 2019 festivals, 'Mission: Home' has reached over 5.5 million people on social media alone, or more than 100 festivals worth of daily attendees.
"Our home must be protected," states 'Mission: Home's artwork, a call to action featured on every single piece of thousands made for the campaign. With each passing year, Ultra continues to utilize the power of its platform as an opportunity to spread this inspiring and increasingly important message, both locally and globally.